Aggregate Crushing Plant, Aggregate Crusher Plant For Crushed Ore
What Is Aggregate?
In general, to aggregate (verb, from Latin aggregate meaning to add to) is to collect things together. An aggregate (adjective) thing is a collection of other things. An aggregation is a collection.

Aggregate Crushing Plant Introduction
Firstly, the raw materials are initially crushed by rough crusher (I. E. Rough jaw crusher); Then the roughly crushed materials are transported into the fine crusher (I. E. Fine impact crusher) for further crushing; The fine crushed materials get into vibrating screen to be divided into three types: carpolite, stone, and block; Then the bigger ones go back to impact crusher again.
Aggregate Crushing Plant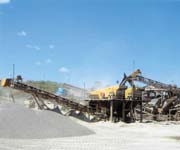 Natural gravel or sand are usually dredged or dug from a pit, river, lake, seabed or mountain. Crushed aggregate is produced by crushing quarry rocks, boulders, cobbles, or large-size gravels. Recycled concrete is a viable source of aggregate and has been satisfactorily used in soil-cement, granular sub bases, and in new concrete. Aggregate processing consists of crushing, screening, and washing the aggregate to obtain proper cleanliness and size. If necessary, a benefaction process such as jigging or heavy media separation can be used to upgrade the quality.
Aggregate Crushing Plant
ZENT engineers are able to design and manufacture complete aggregate crushing plant for crusher ores and to provide optimum and most economical solutions according to customer's requirements. Jaw crusher usually is used as primary crusher for aggregate primary crushing. Impact crusher also can be used secondary stone aggregate
crushing equipment
in aggregate crushing process.
The aggregate crushing plant for crusher ores isn't the only way to process ores, the aggregate grinding and screening plant is also used frequently, such as ball mill, vertical mill,
vibrating screen
etc. .
In addition, the aggregate grinding and screening plant manufactured is suitable not only too ores, but also to produce limestone aggregate, marble aggregate, quartz sand aggregate, sandstone aggregate, basalt aggregate, granite aggregate, river stone aggregate and so on. The aggregate crushing plant can produce all kinds of concrete aggregates for construction, building, road, highway construction industry.
Related industrial solutions
>> Back to Industrial Solution List

Top