MXB Coarse Powder Mill
Overview of MXB Coarse Powder Mill:
MXB coarse powder mill is a kind of new high-tech milling machine to meet the requirements of coarse powder processing customers. Based on our experts' many years research experience in the milling industry and considering recommendations and requirements of domestic and foreign clients, it is the ideal equipment to replace Raymond Mill, Ball Mill and other traditional grinding mills which only process fine powder materials.
The application of MXB Coarse Powder Mill:
MXB coarse powder mill is used for pre-processing of various crushable non-flammable and non-explosive brittle materials with Mohs under 9. It is widely applied in quartz sand, silica sand, foundry sand, fine sand and other sand abrasive industry. It is also applied in industries of mining , construction , metallurgic, road building and water conversancy etc.
MXB coarse powder mill can be used widely in coal ball milling plant, silica grinding plant, quartz grinding plant, manganese grinding plant, limestone powder plant, limestone grinding plant, iron ore grinding station, coal power plant, coal processing plant, bauxite grinder plants, cement grinding plant etc.
+ Go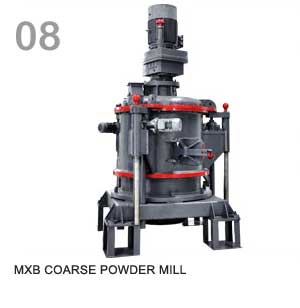 Features & Benefits of MXB Coarse Powder Mill:
1. High efficiency of spare parts. As materials fall from top to bottom, roller and ring are equally worn. Thus the life span could be 3 times higher than that of Raymond Mill.
2. High efficiency of processing fine sand. 80% of the finished sand could be finer than 1-2mm.
3. This machine could be used as the pre-grinding equipment before ball mill so as to increase Ball Mill efficiency by 50%.
4. Products out of MXB coarse powder mill can be used to make firebrick, concrete brick, block and other new building materials
5. Mainly used for pre-processing of various crushable non-inflammable and non-explosive brittle material with Mohs Hardness less than nine.
MXB Coarse Powder Mill Repair And Maintenance:
1. During the application of the MXB coarse powder mill from the professional manufacturer of grinding mill ZENT, some personnel shall be arranged to take responsibility of management. The operators must be qualified with the required technical knowledge. Before the installation of this grinding mill, the persons related to the operation should receive technical training and fully understand the operating principle, performance and regulations of the MXB coarse powder mill.
2. In order to guarantee the MXB coarse powder mill in a normal working state, a Safety Operation System for the Maintenance of the equipment must be established. Only in this way can this grinding mill be guaranteed to have a long-term and safe operation. Meanwhile, it is necessary to have the required repairing tools, lubricant and grease, spare parts and accessories.
3. After some period of running, the MXB coarse powder mill should receive an examination and repairing. The components vulnerable to worn out, such as grinding roller, grinding ring, relieving tool etc. should be repaired or replaced. Before and after the operation, a careful examination should be carried out for the connecting screws, bolts and nuts on the grinding rollers so as to find whether they are loose or sufficiently lubricated.
4. When their application time surpassing about 500 hours, all the rolling bearings in the roller sleeves must be cleaned, and the damaged parts should be replaced. The oiling tool can be either a manual oiling pump or grease gun.
MXB Coarse Powder Mill Technical Data :
| Model | MXB904 |   |
| --- | --- | --- |
| Number of Roller | 4(piece) |   |
| Maximum Feeding Grain Size | <30 mm | (Hard Material)<20mm |
| Open Circuit finished sized | 70 – 90 % < 2 mm | Adjustable, reference Instruction below |
| Open System Capacity | 8 – 15 t/h | Be involved with the average size and hardness of the feeding |
| Main Motor Powder | 37 – 45 KW | Fines, Low production with small motor |
| Main Motor Model | Y225-4 | 45KW |
| Elevator Power | 3X1.1 KW |   |
| Contour (LXWXH) | 2.01X2.03X2.79(m) | Including main motor gear box main unit |
| Maximum Lifting weight of Single Piece | 4.81 | Refer to the individual pieces can not be disconnected |
| Cross Weight (Except Electric) | 13.71 |   |
[Support equipments parameter]

| Name | Model | Power | Description |
| --- | --- | --- | --- |
| JC Jaw Crusher | JC250×1000 | 30kW | Speed≥1m/s |
| Bucket Elevator | TH250 | 3kW |   |
| Vibrating Feeder | GZ3F | 0.2kW | Space between inlet and outlet is 1000 |
Note: This specification is just reference, any changes are subject to the MXB Coarse Powder Mill products
Attachments:

Top