Bauxite washing machine
Bauxite washing machine
Bauxite washing machine or bauxite washer equipment is used common after bauxite crushing process and bauxite grinding stage in bauxite crushing plants or bauxite quarry plants. Bauxite washing machine is similar with sand washing machine which is widely used in gravel pits, mining, building materials, transportation, chemical industry, water utilities, concrete mixing stations and other industries in the washing of the material.
In the bauxite crushing plants, bauxite crusher takes the role of primary crushing equipments for crushing, and then feed the crushed bauxite ore into bauxite grinding machines for next grinding. After grinding process, we use bauxite washing machine to wash crushed bauxite for grinding and selection preparation. Bauxite washing machine or bauxite washer can wash stone powder and residual away from the mixed sands produced by sand making machine, which can improve the sand quality mostly.
Bauxite washing machine features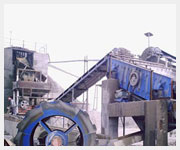 1. Bauxite washing machine of simple structure, the impeller drive bearing plant materials with water and isolated by water, much to avoid the bearing due to flooding, sand and pollutants cause damage to the phenomenon.
2. Less loss of fine bauxite ore and bauxite powder in ore washing process
3. There are no wearing parts except screens
4. Long service life, long-term without maintenance.
In the bauxite production line or bauxite washing plant, bauxite making machine, bauxite washing machine, vibrating screen, feeder, crusher, grinder are essential.
Bauxite washing machine Installation and operation
Bauxite washing machine is adopted the different proportion of solid particles, and thus the rate of sedimentation in liquids of different principles of mechanical grading equipment. It's used widely in bauxite washing plant. Before use bauxite washing machine, we should take care of reading the installation brochure and clearly understand how to operate washing machine in right way.
1. Before run bauxite washer, check connective bolt has been fastened, check movable parts lubricated well.
2. Motor should outfit rain shelter to protect equipment from creep age.
3. Bauxite washing machine should be installed on the back of screen equipment.
4. Bauxite washing machine should be installed on the reinforced concrete. In order to protect control systems, you need build a concrete sedimentation basin to deal with the waste water.
Related industrial solutions
>> Back to Industrial Solution List

Top