Iron Ore Grinding Station, Ball Mill For Iron Ore Grinding
Iron Ore Application
In our lives, iron ores can be described as the most useful and inexpensive, the richest and most important metal. Iron is carbon steel, cast iron key elements of industrial and agricultural production in plant construction, rail, roads, bridges, ships, port facilities, housing, and construction of the steel components inextricably linked.

Iron ore grinding mill is the key equipment for grinding after the crushing process, which is widely used in the manufacture industries, such as cement, silicate, new building material, refractory material, fertilizer, ferrous metal, nonferrous metal and glass ceramics and can be used for the dry and wet grinding for all kinds of ores and other grind-able materials.

Shibang Company is one of the largest manufacturers in crushing and grinding industry in China. ZENT grinding equipment is on maximum productivity and reach high speed reduction. It's widely used in crush dolomite, feldspar, iron ore, limestone, fluorite, granite, graphite and plaster and so on.
Iron Ore Grinding Station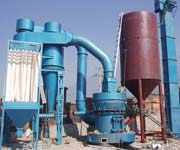 Our iron ore grinding station include Ball mill, Raymond mill, MTM trapezium mill, Super thin mill and Coarse powder mill and so on. Ball mill is the traditional horizontal grinding mill and has very wide use, which can grind many kinds of material. Raymond mill is the vertical grinding mill, which is popular in many countries and has very long history. The MTM trapezium mill is ZENT developed new grinding mill, which adopts many countries grinding technology and our engineers' experience. Super thin mill is special for super thin grinding and coarse powder mill is special for coarse powder grinding. You can choose suitable iron ore grinding mill depends on your iron ore size, hardness, capacity and your cost budget.

Bill Mill For Iron Ore Grinding
Ball mill is often used to grinding iron ore in grinding process. Ball mill is widely applied in mineral classification, cement, fireproof materials, glass, pottery, chemical industry and so on. Ball mill is a vital tool for regrinding the crushed materials. Shibang ball mill is suitable for dry and wet grinding of various kinds of materials. Currently it is extensively used in many industries, such as cement, fireproof materials, silicate products, new building materials, fertilizers, ferrous metals, nonferrous metals, glass, ceramics, and so on.
Related industrial solutions
>> Back to Industrial Solution List

Top