Quartz grinding mills
Quartz
Quartz is the second most abundant mineral in the Earth's continental crust, after feldspar. According to its quality, quartz can be classified of ordinary quartz sand, fine quartz sand, high purity quartz sand and fused silica sand.
Quartz sand is the ideal man-made material of modern track and field, soccer fields, golf courses and other venues supporting places.
Quartz grinding mill working process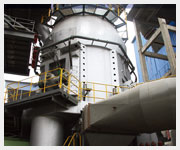 Firstly, the raw quartzite blasted into proper size will be fed into primary jaw crusher by vibrating feeder; then it will be crushed and transferred to secondary crusher (jaw crusher, Impact crusher) via conveyor belt. After this stage, the quartz sand will be sieved by vibrating screen into different grades; the sand meet the demands will be transported to a stockpile, the larger ones will be transferred into VSI crusher for further crushing until the grain size is suitable.
White quartz grinding machine
White quartz can be crushed into quartz sand which is used in sports stadium design and production of lawn-specific products with high hardness, heavy, uniform size, angular small, natural colors and other characteristics of artificial turf damage, hair grass forms a protective role in making the lawn more durable.
White quartz grinding machine is a type of grinding equipment specifically used for grinding white quartz. White quartz grinding machine includes ball mill, Raymond mill, vertical mill, ultrafine grinding machine, trapezium grinding mill, coarse powder grinding machine etc. According to the application of white quartz sand, ZENT white quartz grinding machine includes coarse grinding machine and fine grinding machine for white quartz.
Quartz grinding mills for sale
Quartz grinding mills for sale form ZENT is with low price, high quality, all-around technology service, perfect after-sale maintenance, installation, business consulting services etc. ZENT can supply you quartz grinding mill quotes or cost online now.
Contact us with online clients or email: [email protected].
Related industrial solutions
>> Back to Industrial Solution List

Top