Silica Sand Crushing Plant
Silica sand crushing plant
Silica sand crushing plant is the crushing equipment designed for silica crushing solution. Since silica sand is widely used in construction and many other industries, silica sand crushing plant is more and more important.
Silica sand is one of the most common varieties of sand found in the world. It is used for a wide range of applications, and can be purchased from various suppliers throughout the world. Silica sand is used in industrial processing, to make glass, as fill, and to create molds and castings.
Silica sand crushing plant including several series: cone crusher, jaw crusher, impact crusher, mobile crusher and VSI sand making machine. Of all these silica sand crushing plants, VSI sand making machine is the one which fit the requirement of sand making most.
Silica sand crushing principle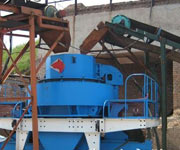 Silica sand is used throughout the world, and in so many different ways it is hard to imagine a world without it. From water filtration, to glass manufacture, to industrial casting, to sand blasting, to producing concrete, to adding texture to slick roads, silica sand impacts every aspect of daily life. One of the major uses of silica sand in the modern world is as an ingredient in industrial concrete. Silica sand produces the bulk of a great deal of concrete, although some concrete bypasses its use for safety and strength reasons. At industrial scales, silica sand can cost less than $0.50 US Dollars (USD) per pound, while the consumer rate is around $1.50 USD per pound.
VSI series sand making machine works with two methods:
Feed at center
Materials firstly strike those materials that are free falling down. Then, materials strike the materials-liner in the vortex or the impact liner and are rebounded to the top of crushing cavoty and then fall down. After that, the falling materials with materials shot from the impeller form a continuous materials curtain.
Feed both in the center and from sides
The materials fall into the hopper and circle hole and then will be divided into two parts by the distributing plate. One part of materials cross the distributing plate and enter the high speed impeller and then is accelerated and thrown out. The other part falls down from the sides of distributor.
ZENT VSI series silica sand crushing equipment
ZENT is the professional silica sand crushing equipment manufacturer. Founded in late 80s of last century, ZENT tried our best to produce mining equipments with high capacity and high efficiency. ZENT VSI crusher fits the silica sand producing requirement most.
ZENT VSI crusher is short for VSI series vertical shaft impact crusher. It is also called VSI sand making machine because of its predominate functions in sand making. VSI series sand making machine is developed on the PCL series sand making machine and the new VSI5X series sand making machine is developed based on VSI silica sand crushing plant.
ZENT sand crushing equipment is featured with:
1. Optimized deep-chamber rotor, increasing the material throughput by 30%
2. Reversible protecting plate
3. Built-up hammer
4. Impact block in diamond shape
5. Quality bearings from Japan, Sweden and U.S.
6. Choice hydraulic pressure-driven uncapping device imported from Japan
7. High protection standard motor with high efficiency and less noise
Related industrial solutions
>> Back to Industrial Solution List

Top