Granite Crusher
Granite crusher
Granite crusher is the stone crusher used for granite crushing solution. Granite is a common and widely-occurring group of intrusive felsic igneous rocks that form at great depths and pressures under continents. A rock consisting of equal proportions of orthoclase and plagioclase plus quartz may be considered a quartz monzonite. A granite containing both muscovite and biotite micas is called a binary granite. The average density is 2.75 g/cm3 with a range of 1.74 to 2.80.
ZENT supply professional granite crusher to the world. ZENT high performance granite crusher uses high technology and our 20 years' experience and is welcomed by our customers. Granite crusher is widely used in areas like construction, road building, railway construction and aggregate.
According to the working process of granite crushing, granite crusher is divided into primary crusher, secondary crusher and tertiary crusher. ZENT also supply assistant equipments like vibrating screen, belt conveyor and vibrating feeder for granite crusher.
Granite crushing process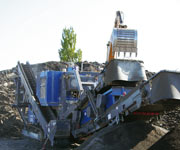 Granite is used widely in variety of construction and home decorations, such as hotels, banks, airports, as well as on the streets. In construction, granite is usually used as construction aggregate and it is also quite fit for that application. Granite should be crushed into sand shape before it is used in construction.
Granite crushing process runs as follow: Granite raw materials are poured into vibrating feeder and then get pulled into primary granite crusher continuously and evenly. Outputs from granite primary crusher are transported into secondary crusher and get crushed into sand size. If you are do not think the final products are as even as you want, you can use the vibrating screen for the crushing process. Those larger granite stones will get selected and pulled into secondary crusher to resize. Then the sand size granite final products are finished. If you have special need in granite powder, you can just add the tertiary crusher in the end of this crushing process and get the powder you need.
ZENT granite crushing machine
ZENT is the professional granite crushing machine manufacturer. Founded in the early righties of last century, ZENT is now a high technology company supplying mining equipments with professional mining equipment products and service. ZENT design granite crushing machine for granite crushing solution.
ZENT granite crushing machine includes four series: impact crusher, cone crusher, jaw crusher and mobile crusher. Jaw crusher and impact crusher is usually used as primary crusher. With the development of technology, ZENT European type jaw crusher and impact crusher can also be used as secondary granite crushing machine. ZENT secondary crushing machine also includes cone crusher. And part of ZENT cone crushers is also used as tertiary crushing machine. Mobile crusher is equipped with stationary crushers as talked above. The most remarkable advantages of mobile granite crushing machine is that it is movable and reliable and can be used in a wide arrangement.
Together with granite crushing machine, ZENT also supply professional service for our customers. If you want to buy any crusher, just contact ZENT!
Related industrial solutions
>> Back to Industrial Solution List

Top