Cement Grinding Plant Machine
Cement grinding plant machine
Cement is a fine, soft, powdery-type substance and is usually used in construction as bond. It is made from a mixture of elements that are found in natural materials such as limestone, clay, sand and/or shale. Once cement is mixed with water, it will set as soon as possible, for which cement is widely used in construction as bond.
Cement grinding plant machine is the grinding equipment for cement producing. Usually we use ball mill as the cement milling plant.
Cement Manufacturing Process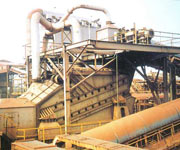 With high capacity cement grinding plant machines, the cement manufacturing process will produce
1. The cement manufacturing process begins when limestone, the basic raw material used to make cement, is transported by rail to the Edmonton plant from the limestone quarry.
2. The limestone is combined with clay, ground in a crusher and fed into the additive silos. Sand, iron and bottom ash are then combined with the limestone and clay in a carefully controlled mixture which is ground into a fine powder in a 2000 hp roller mill.

3. Next, the fine powder is heated as it passes through the Pre-Heater Tower into a large kiln, which is over half the length of a football field and 4.2 metres in diameter. In the kiln, the powder is heated to 1500 degrees Celsius. This creates a new product, called clinker, which resembles pellets about the size of marbles.
4. The clinker is combined with small amounts of gypsum and limestone and finely ground in a finishing mill. The mill is a large revolving cylinder containing 250 tonnes of steel balls that is driven by a 4000 hp motor. The finished cement is ground so fine that it can pass through a sieve that will hold water.
5. The cement manufacturing process consists of many simultaneous and continuous operations using some of the largest moving machinery in manufacturing. Over 5000 sensors and 50 computers allow the entire operation to be controlled by a single operator from a central control room.
ZENT cement milling plant for sale
As the leading milling plant manufacturer, ZENT is always trying our best to produce more and better milling plants. Since founded in 1980, ZENT kept researching and developing new products and is now leading the ZENT mining equipment market. ZENT milling equipments have been sold to more than 100 countries in the world and are welcome by our customers. Together with the professional service and high technology support, customers will enjoy a happy cooperation.
ZENT special design the cement milling plant for sale. ZENT high performance cement milling plants are featured with high grinding efficiency. The cement grinding plant uses extrusion to produce cement powder and air in the grinding mill can take the powder out of the mill to avoid second grinding. High drying efficiency is also the noticeable characteristic of ZENT cement milling plant. Hot air is spraying from air passenger at high speed and can dry materials with 15% to 20% water.
ZENT high performance cement milling plant is your best choice for cement manufacturing. If you want to know more about cement milling plant or cement grinding plant machine, just click the related products.
Related industrial solutions
>> Back to Industrial Solution List

Top