Kaolin crushing machines
Kaolin clay introduction
Kaolin clay has become the paper producing industry, ceramics, rubber, chemicals, paint, pharmaceutical and defense industries as the necessary mineral raw materials. Some kaolin has a good quality electrical insulation with making use of this nature can be the high-frequency ceramic, porcelain radio.
Kaolin crushing machines
Kaolin crushing machine also named kaolin crusher is used widely for crushing kaolin clay into particle in kaolin quarry plants or kaolin mining production lines. Because of kaolin's small hardness, so most of stone crushers' equipments can be used for crushing kaolin clay. Small jaw crusher is suitable for small kaolin quarry plants with easy maintenance, low cost, convenient installation. Sand making machine and vertical shaft impact crusher can be applied for final kaolin crushing process.
Kaolin crusher classification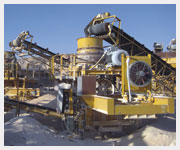 Kaolin clay crusher can be divided into primary crusher and secondary crusher according to its crushing process. Kaolin clay primary crusher includes jaw crusher, impact crusher, hydraulic crusher, cone crusher etc. VSI crusher, PCL sand making machine is belong to secondary crusher equipments.
Mobile kaolin crusher or kaolin mobile crushing machine is ZENT new crushing machinery in recent years widely used for crushing and screening in many areas such as road construction, building, metallurgical and energy industries, etc.
Kaolin clay production line is a crushing plant used for producing kaolin final products. During this production line, we need related kaolin clay machines such as crusher, mill, feeders, screens etc.
Kaolin clay application
The uses of kaolin clay are varied; the most using area is paper making industry. The paper industry relies on clay as both as a coating and as a filler. The use today has expanded to include ceramics ranging from sanitary ware to bone china, floor and wall tiles to electrical porcelain.
To a lesser extent, kaolin clay is used as refractories, in fiberglass and in portland cement. Once the clay is heated to over 500 C it becomes calcinated, forming calcined kaolin. This product has a distinctive crystal structure providing enhanced brightness and opacity.
Related industrial solutions
>> Back to Industrial Solution List

Top