Copper Mining Equipment
Copper Ore overview
Native copper and the copper sulphides are usually found in veins associated with igneous intrusions. Chrysocolla and the carbonates are products of the weathering of copper-bearing rocks. Copper was one of the first metals to be worked, because it occurred in native form and needed little refining. Today the main producers are the USA, Russia, Kazakhstan, Georgia, Uzbekistan, Armenia, Zambia, Chile, Peru, Canada, and the Democratic Republic of Congo (formerly Zaire).
Copper ore has been identified in the world includes: porphyry copper accounts for 55.3%, sandstone copper accounts for 29.2%, pyrite copper accounts for 8.8%, Cu-Ni sulfide copper accounts for 3.1% and others account for 3.6%. Porphyry copper is usually from pacific rim, Tethys-Himalayan belt and central Asia-Mongolia zone. Mineral deposits in these areas are large and shallow underground. Copper ores in these areas are usually easy to extract but of low purity. Sandstone copper ore is also in large scale mine deposit and easy to extract. Sandstone copper ore is usually of high purity. Porphyry copper and sandstone copper are the most common two copper ores.
Copper mineral resource in the world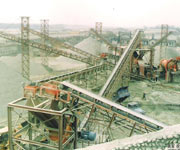 Copper ore deposits are found in several places of India. Copper is considered as the most important metal used in the country next to iron. Copper is used broadly in the manufacture of electrical machinery, cables and wires as it is a good conductor of electricity. It is the electrical industry that consumes an appreciable bulk of the total amount of copper produced in the world.
Zambia was the fifth-largest producer of cobalt in 2000, the 12th-largest producer of copper, and a major producer of gem-quality emerald and amethyst. The production of mineral commodities generated 15%–20% of GDP, while mining and quarrying accounted for 5% of GDP in 1999, 80% of merchandise exports, and 8% of total employment (38,500 jobs).
Australia is the world's fifth largest producer of copper. Tey have several copper mines which are of world significance, including Mt Isa in Queensland (our largest copper producer) and Olympic Dam in South Australia which is mining out one of the largest copper-bearing ores in the world.
Chile is rich in nature resources, in which copper ore has large reserve. Copper accounted for fifty-five per cent of the country's economy by 1860.  Chile became highly dependent upon its copper exports. After the War of the Pacific (1879-83), the quantity of copper that Chile mined continued to skyrocket.
ZENT copper mining equipment
Copper mining equipments are widely used in copper ore mines. Grinding mill and stone crusher are the mining equipments for copper ore processing physically. As the leading mining equipment manufacturer, ZENT supply all kinds of copper mining equipment like grinding mill and stone crusher.
ZENT copper mining equipment includes jaw crusher, cone crusher, impact crusher, mobile crusher, trapezium grinding mill, coarse powder mill, super thin mill, ball mill and vertical mill, etc. ZENT copper mining equipment gets the ISO 9001 certification and is welcomed by our customers.
Related industrial solutions
>> Back to Industrial Solution List

Top