Limestone powder plant
Limestone powder plant
Limestone powder plant is a crushing plant or crushing line used for limestone production line in stone factories and quarries. According to limestone application, we can supply blue limestone powder plant and yellow limestone powder plants etc.
The run-of-mine limestone is of large particle size and hard texture, so limestone crusher and limestone grinding mill is important equipment. Limestone crusher is usually taken as the primary crushing equipment in limestone powder plant, after crushed limestone mill is key equipment during production line.
Limestone powder plant working principle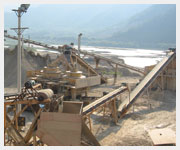 Limestone powder plant also can be named limestone crushing plant or limestone production plant including raw material crushing stage, grinding process, rotary kiln heating process, washing stage etc. In the powder plant, limestone will be crushed by primary crusher, secondary crusher, even tertiary crusher, and will be grinded by vertical mill, ball mill etc. When the limestone powder meets the required size, it will be burned in rotary kiln. So cement clinker is produced. Before the cement clinker is transported to stockpiles, it will be mixed with additive materials such as gypsum powder, clay powder and so on.
Ball mill used in cement processing plant
Cement processing plant is used in cement factories for cement finished products re-production and raw materials grinding process. This type processing plant is mainly formed by cement crushing equipment used for primary crushing stage, cement grinding equipment used for grinding stage, cement conveyor system for conveying cement raw materials, crushed materials, grinded materials etc, . In addition to these processing equipments, control equipments are also the key equipments in order to operate normally and rightly.
During the cement grinding process, ball mill is the most widely used machinery according to the cement production or cement usage. In the cement processing plant, firstly, cement raw materials was crushed by cement crusher or cement breaking equipment, then, the crushed materials was conveyed by belt into ball mill feed and grind into small size of final products.
Related industrial solutions
>> Back to Industrial Solution List

Top