Gold grinding machine
Gold mining industry
Industrial grinding machine is widely used in metallurgy, building materials, chemicals, mining minerals process etc. Gold grinding machine is the special equipment applied for grinding gold ore minerals in gold mining industry.
Gold grinding machine is consisting of the host, analysis machine, blower, finished cyclone, plumbing fixtures, electrical control system, conveyor, etc. The grinding machine host includes blade, roller, grinding rings, motor, covers etc. In order to process gold raw materials, we equip grinding machine with jaw gold crusher, bucket elevator, electromagnetic feeder equipment, cabinet etc.
Gold grinding machine classification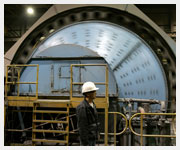 ZENT gold grinding machine includes ball mill, vertical mill, Raymond mill, trapezium mill, high pressure grinding machine, coarse powder grinding machine. Different machines selection depends on the gold hardness, final products size etc. Our technology managers can design special gold grinding plants with professional grinding machine for our gold miners and clients.
ZENT can supply gold grinding mill or gold grinding machine for gold ore process in mining industry all over the world.
Gold grinding process principle
When asked to size the ore selected is very small, less than 0.074mm grain size of 80% or more, or request a stage of sorting that can be closed in the two first full-grinding processes.
1. When raw gold ore with fine particle size or requesting a stage for sorting can be used a closed grinding whole stage.
2. Gold ore containing slurry or clay, the common crushing or grinding process is not suitable and we should adopt wet grinding process equipments.
3. When the raw gold ore contains amount of precious metals minerals, we should first take out the other ores, in the gold ore processing stages, ball mill or vertical mill are important grinding machines.
Related industrial solutions
>> Back to Industrial Solution List

Top