Gypsum Machine, Gypsum Machinery And Equipment
About Gypsum
Monoclinic gypsum is a mineral, the main chemical composition is calcium sulfate (CaSO4). Gypsum is also called plaster, it is a widely used industrial materials and construction materials. Retarder for cement, gypsum building products, model making, medical food additives, sulfuric acid production, paper filler, paint filler.

Gypsum is usually white, colorless, colorless, transparent crystals. Sometimes due to impurities and ash, light yellow, light brown and other colors. Microporous structure of gypsum dehydration and heat to make a good sound and heat insulation and fire performance. Main products of the chemical deposition, often forming a huge ledge or lens, occurs in limestone, red shale and sandstone, marl and clay rocks, often with the anhydrite, rock salt and other symbiotic.

Gypsum Application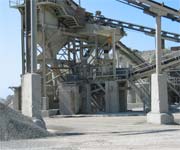 Gypsum is monoclinic, a high degree of cleavage, easily split into thin sheets. The gypsum is heated to 100 ~ 200 ° C, lose some crystallization water, gypsum hemihydrate can be obtained. It is a hard cementations material gas, with α and β are two forms were tested diamond crystal, but different physical properties. Crystallization of α-hemihydrate gypsum good, solid; β-type hemihydrates is flaky and cracked crystals, crystal is very small, specific surface area than the α-hemihydrate gypsum is much greater.

Cementitious materials is the production of gypsum plaster and gypsum building products, the main raw material is Portland cement retarder. It can be anhydrite binder cast by 600 ~ 800 ° C calcination with a small amount of finely ground lime and other co-catalysts.

Gypsum Machine and Equipment
ZENT crusher is comprehensive of domestic and foreign similar stone crusher technologies, such as impact crusher and hammer crusher. Crusher is mainly used for crushing gypsum, contains medium and small broken cement raw material, clinker, used for building sand, iron ore, sand, gypsum, coal, lump coal and other minerals in hard broken. Besides gypsum crusher, ZENT also can manufacture gypsum grinding mill for grinding gypsum or plaster such as gypsum ball mill, gypsum vertical mill, gypsum coarse powder mill, gypsum superfine mill and so on.

Gypsum Machine And Equipment Features
High quality. ZENT applies advanced technology in gypsum mining equipment producing.
High capacity. ZENT mining equipment is designed with the best structure which ensures the high capacity.
Good products size composition. The crusher applies for laminated crushing principle to make cubic shapes of final products stand for larger proportion. Acicular and flake shape products decrease and size fraction much more well-proportioned.
Long service time. ZENT gypsum mining equipment is produced with strong and the best materials.
Professional service. Each ZENT gypsum mining equipments, ZENT has the professional team for you to solve any problems you meet.
High reliability. Adopting main shaft with big diameter, heavy main frame and separate automatic Control System of thin oil lubrication system, so that it guarantees robustness and reliable operation of the crusher.
Related industrial solutions
>> Back to Industrial Solution List

Top