Silica Grinding Machine,Silica Grinder Mill,Silica Sand Powder Machine
Silica Instruction
Silica has been beginning and understanding in the 80s of China, it's found a new non-metallic mineral. Silicon is the second most common element in the Earth's crust, comprising 25.7% of the Earth crust by weight, it is a relatively high degree of diagenetic, fine particles containing a certain amount of clay, calcium and magnesium quality chert, weathering and leaching, calcium and magnesium by leaching quality, very fine quartz and clay minerals are preserved, Thus forming a large number of porous chert. Silica is cryptocrystalline, microcrystalline mainly of α-quartz, clay minerals, supplemented by the powder or lump of silicon and porous mineral aggregates industry.

Silica Grinding Process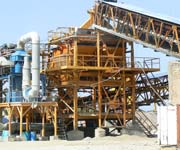 Silica alloys with a variety of metals, including iron, aluminum, copper, nickel, manganese and ferrochromium. Here we can provide you with silica crusher, such as for primary crushing of jaw crusher, cone crusher and impact crusher for secondary crushing. Cone crusher and impact crusher also can use to tertiary crushing. In tertiary crushing, VSI vertical shaft impact crusher is extremely excellent. Apart from silica crushing equipment, there are grinding machine for further grinding, such as ball mill, Raymond mill, trapezium mill, etc. They are all very useful and widely used in silica grinding industry. If you need a complete silica crushing and screening solution, we have the vibrating screen and vibrating feeder, also have the common belt conveyor. If you have any doubts, please tell us the exact info about your raw materials, such as input size, and your desired capacity. We will design special silica crushing plant according to your situation.

Features of Silica Grinding Machine
The ball mill generally grinds material 1/4 inch and finer, down to the particle size of 20 to 75 microns.
Dry type and wet type
The longer the ball mill runs, the finer the powder will be.
The capacity is large, can meet cement, chemical industry need.
Installation style: left or right according to site.
There are two ways for grinding: dry and wet.
The Scale board (ZGMN13, rubber) and medium (aluminum ball, steel ball and so on) can choose according to different raw material and usage.
Related industrial solutions
>> Back to Industrial Solution List

Top