Limestone grinding plant
Limestone grinding plant introduction
Limestone is very common in architecture and cement industry. Limestone is a very important industrial raw material.
Limestone is the raw material for the manufacture of quicklime (calcium oxide), slaked lime (calcium hydroxide), cement and mortar.
Pulverized limestone is used as a soil conditioner to neutralize acidic soils. 
It is crushed for use as aggregate - the solid base for many roads.
Limestone grinding plant is improved from traditional Raymond mill grinding plant, which is specially designed to grind limestone and process limestone. Limestone grinding plant is necessary equipment for limestone processing.
Limestone grinding process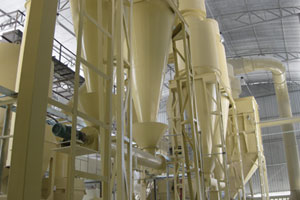 Firstly, big limestone block is crushed by jaw crusher to the size required, and then the crushed limestone is elevated into a hopper. Then the limestone is transported through the electro-magnetic vibrating feeder, evenly and continuously into the grinding chamber for powder-processing. The rollers oscillate outward to press the ring because of the centrifugal force and the shovel scoops up the materials, send to the middle between ring and roller to accomplish the grind.
After this, the ground limestone powder is carried by the air from the blower into the separator for screening. The fine powers are blow into the cyclone collector and are poured out through the output-powder valve as the final products and the rough stuff after the screening will be recycled back into the grinding chamber for regrinding.
Limestone grinding machine
The traditional limestone grinding machine is Raymond mill. The current limestone grinding machine is improved from Raymond mill. ZENT limestone grinding machine includes LM vertical mill, ultrafine mill, coarse powder mill, ball mill.
Related industrial solutions
>> Back to Industrial Solution List

Top