Manganese grinding machine
Manganese ore
In modern industry, manganese ore and its compounds are used in various fields of national economy such as mining equipments manufacturing, iron and steel industry etc.
Manganese is mainly applied as iron and steel during deoxidation and desulfurization agent, and used to make alloys. Manganese is also used in other industries such as chemical industry (manufacture of various manganese salts), light (for batteries, matches, paint, soap, etc.), building materials industry (glass and ceramics colorant and bleaching agent) , defense industry, electronic industry, as well as environmental protection and agricultural sectors.
Manganese ore powder machine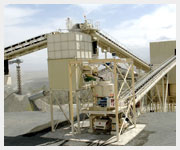 Coarse powder mill is a widely used manganese ore powder machine in ore grinding industry. Manganese ore powder machine can be used for replacing ball mill, vertical grinder, Raymond grinder and other grinder machines to grind manganese ore raw materials. We can also name it manganese grinding machine or manganese mill widely used in silica sand plants, quartz sand crushing lines, foundry sand making plants, fine sand processing industry etc.
Manganese ore powder crushing plant is made of manganese crushing equipment, manganese ore powder grinding machine, bucket elevator, electro vibrating feeder, main unit, optional equipment, blower, centrally electric control system, etc. According to customer's specific requirement, we can choose high pressure suspension grinding mill or MTM medium speed trapezium mill, MTW European trapezium manganese mill etc.
Manganese grinding machine features
1. High qualities wear parts, long service life time.
2. High percentage of manganese products.
3. Better desulfurization effect.
4. Wide range of application in manganese grinding plants.
Related industrial solutions
>> Back to Industrial Solution List

Top