Granite aggregate crusher
Granite aggregate crusher
Granite is a condensate of magma below the surface consisting of feldspar and quartz. Aggregate is used for mixing concrete or mortar sand, crushed stone, crushed gravel in general. According to our experience, granite is applied widely in aggregate production plants. Aggregate includes coarse aggregate such as pebbles, gravel, slag etc. and fine aggregate such as fine sand, fly ash etc.
Granite aggregate crusher is a stone crusher used for crushing granite into fine size for producing aggregate materials. ZENT granite aggregate crushers include jaw crusher, impact crusher, cone crusher, mobile crusher etc.
Jaw crusher of granite aggregate crushing model used in granite mining processes various kinds of material with crushing compression strength not more than 320mp. Jaw granite aggregate crusher features firm structure, stable performance, large capacity, even producing granularity, convenient maintenance and economical running expense.
Impact crusher for granite aggregate crushing process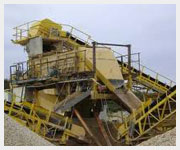 Impact crusher for granite crushing has such advantages as: simple in structure, large crushing ratio, low energy consumption, high output, light weight, cubic final product, and granite impact crusher is used in mineral processing, chemical, cement, construction, refractory material, ceramics, glass, etc, such industrial sector for medium, fine and medium-hard materials.
VSI crusher for granite aggregate crushing is the key equipment in granite aggregate production line. This granite crusher is not only a crushing machine, but also a sand making machine, which is more suitable in aggregate making.
Granite screening plant
Granite screening plant is main equipments in granite crushing plants used commonly after granite crushed process. Firstly, granite should be entered into primary crusher or secondary crusher for crushing, after crushed process, granite products should be conveyed to grinding equipments by conveyor systems. At last, the granite products will be conveyed into screening plants to get final products.
Granite screening plant mainly includes belt conveyor, motor systems, screening equipments, washing equipments, central controllers, etc.
Related industrial solutions
>> Back to Industrial Solution List

Top