Granite quarry equipment
Granite Use
Granite is a common and widely occurring type of intrusive, felsic, igneous rock because of its uneasy granite weathering and beautiful color appearance etc. Because of its high hardness, wear resistance, in addition to as a senior architectural engineering, the ground outside the hall, or the material of choice for outdoor sculpture.
Many nonferrous metals such as copper, lead, zinc, tungsten, tin, bismuth, molybdenum, precious metals such as gold, silver, rare metals such as niobium, tantalum, beryllium, etc., radioactive elements such as uranium, thorium, etc. are related to granite ore.
Granite quarry equipment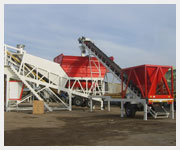 According to the granite use or application, we know that we should crush or grind granite into small size so it can be applied to use. During this process, we need granite crushing equipment, grinding equipment, screening equipment, washing equipments etc. These granite quarry equipments are all supplied by ZENT.
Granite quarry equipment is most used widely in quarry plants, rock crushing lines, stone grinding plants etc.
Granite quarry equipment: granite quarry crusher
In the granite quarry crushing plant, granite quarry crusher is important equipment which used for primary crushing process. In our crushing experience, we recommend to choose jaw crusher, hydraulic impact crusher as the primary crusher equipments. Granite quarry crusher with easy structure and operation can work with high repaid and high output capacity.
VSI5X crusher is the new model of granite quarry crusher with many advantages compared to VSI crusher and some other traditional stone crusher equipments. VSI5X crusher is the most widely used sand making machine in granite quarry plants or granite production lines.
Granite quarry equipment: granite quarry mill
Granite quarry mill is used in second grinding stage in granite quarry plants. We should select different quarry milling equipments depend onto the feeding size and finished size of granite materials. Ball mill, vertical mill, trapezium mill can be used as granite quarry mills.
Granite mining equipment
Granite mining equipment includes granite mining crusher, granite mining mill, granite feeding equipment, granite screening equipments etc.
ZENT is a professional mining equipments manufacturer which can supply miners with granite quarry equipments, granite mining equipments, granite crushing plants solution etc.
Related industrial solutions
>> Back to Industrial Solution List

Top