Cement Production Line
Cement production line
Cement is the mealy hydraulic binding agent. The slurry mixture of water and cement stiffen in the air or stiffen better in water, during the process building materials like sand and stones will get bonded. Cement is the important building materials. The concrete made with cement is hard and durable and is widely used in building and construction, water conservation and national defense.
Usually the industrial cement is Portland cement. Portland cement is micromesh and usually grey powder. Portland is made up with calcium (from limestone), silicate, aluminates (from clinker or clay) and ferrite, etc. Cement can also be made from gypsum and clinker.
Cement is divided into currency cement, special cement and characteristic cement. Currency cement is widely used in building and construction.
Cement Manufacturing Process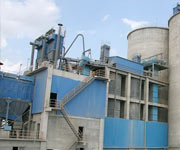 Different Steps for cement production line:
1. Collecting the Ingredients: Lime, silica and alumina are the three basic ingredients of cement. The source of the lime is limestone. Silica is obtained from clay, and alumina is obtained from bauxite.
2. Grinding the Ingredients: The ingredients are grinded to make them small enough to pass a sieve of size 200. The grounded ingredients are then mixed homogeneously.
3. Making Clinkers: The grinded mixture is then fed into a inclined tubular kiln for roasting. Temperature of this roasting kiln is around 1500 to 1700 degree centigrade. During the process of roasting, Silica, alumina and lime are converted into calcium aluminates. The ingredients take the shape of small lumps called clinker.
4. Cooling the Clinkers: The hot clinkers cannot be used directly for the further processing. The clinkers are stored for cooling to a temperature of 50 to 55 degree centigrade.
5. Grinding the Clinkers: The clinkers then need to be finely grinded to make cement. While grinding, 2 to 5 percent gypsum to be added. Gypsum retards the setting time of the cement upon mixing it with water.
6. Storage and Packing: The cement is then stored in large silos until weighing and packing. Packed cement is then supplied to market.
ZENT cement grinding mill
With more than 20 years' working experience in grinding mill manufacturing, ZENT is now the leading grinding mill manufacturer in the world. ZENT design the cement grinding mill for cement production line solution. ZENT grinding mill have eight categories: trapezium grinding mill, coarse powder grinding mill, high pressure grinding mill, super thin mill, ball mill, Raymond mill, vertical mill and hammer mill, all of which are of high efficiency, high capacity and long service time. Ball mill is the excellent cement grinding mill which is most widely used. ZENT produce ball mill with capacity ranging from 0.65t/h to29t/h.
ZENT cement grinding mill features:
High quality wear parts, long life time
High percentage of sand product
Better desulfurization effect
As pre-grind equipment to increase efficiency of the latter machine
Wide range of application
Related industrial solutions
>> Back to Industrial Solution List

Top