Hydraulic-driven tracked Mobile Crusher
Overview of Hydraulic-driven tracked Mobile Crusher:
Hydraulic-driven tracked mobile crusher plant is ZENT's newest mobile crushing and screening plant, which is fully driven by hydraulic force and moves by chassis tracked. It's designed by our company's excellent engineers to meet growing market demand.
The application of Hydraulic-driven tracked Mobile Crusher:
Crawler type mobile crusher plant features high performance, high reliability, elegant design and top international techniques. This type of mobile crusher plant can be widely used for crushing and screening in many areas such as road construction, building, metallurgical and energy industries, etc.
Hydraulic driven tracked mobile crusher can be applied in silica sand crushing plant, limestone mining process, iron ore crushing process, granite aggregate crushing line, copper ore crushing, coal processing plant, cement production line, ballast screening plant, aggregate crushing plant etc.
+ Go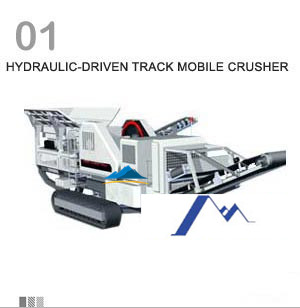 Features of Hydraulic-driven tracked Mobile Crusher:
Cummins Diesel Engine of high performance makes this mobile crusher plant cost less oil, produce less noise and have a more reliable performance and provide an economical and environmental power. The engine of this mobile crusher can be additionally equipped with low temperature preheating start-up device to ensure the crusher machine easy to start under the condition of minus 25°C.
Employing fully rigid boat structure, the chassis features high strength, low contact pressure, good passing ability (easy transportation) and good adaptability to hilly and marsh areas.
High pulling torque travel motor with mature techniques offers strong driving force and high reliability. The use of all-walt variable hydraulic technique in the travel system ensures high performance, reliability and utilization of the motor. The main hydraulic devices of this mobile crusher like pump, valves are imported from Japan.
This mobile crusher plant operating system with imported direct servo technique can be easily and precisely controlled and travel in an infinite variable speed.
Crushing and screening equipments are of our company's advanced products, which have compact conformation and stable performance. The screen equipment set by 20 degree obliquity improves the screening ability.
Hydraulic-driven tracked Mobile Crusher Technical Data:
Title
Unit
Model
Y2S1848L
YGE69L
Y2S184F00
tracked broad width
mm
2990
2990
2990
tracked length
mm
4250
4250
4250
tracked gauge
mm
2390
2390
2390
tracked width
mm
600
600
600
Transport length
mm
12500
13000
12500
Transport Width
mm
3150
3150
3150
Transport Height
mm
3500
3500
3500
Operating length
mm
15800
15200
13800
Operating width
mm
3150
3150
2900
Operating height
mm
4500
4900
4100
Minimum ground clearance
mm
320
320
320
Pressure Flow
28Mpa/180LPM
28Mpa/180LPM
28Mpa/180LPM
Max. speed
km/h
1.39
1.39
1.39
Climbing grade
%
30
30
30
Engine type
Engine power
kw
92
150
150
Engine speed
kw
2100
2100
2100
Note: This specification is just reference, any changes are subject to the crawler type mobile crusher products

Top